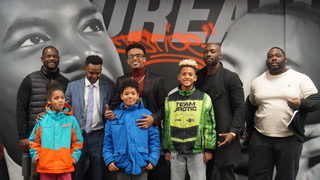 Mehari Hagos founder of the MH 100 Teen Program welcomed guests to view the redesigned, state of the art, work out facility at an Open House event at Windsor's Water World. The facility which bolstered a new training area specifically for football drills, a boxing area and new workout equipment, was funded through the provinces' Ontario Black Youth Action Plan.
Dico Angelo, who assists with program operations, said they planned the grand re-opening to take place during Black history month in part to showcase the new murals from artist, David Derkatz. Martin Luther King Jr., Muhammad Ali and Serena Williams now grace the walls of the top floor of Water World where the MH100 program takes place, no doubt inspiring the youth that if they believe it they can achieve it.
The program offers a space where youth can do their homework and provides access to exercise and training equipment. They offer healthy snacks and a variety of complimentary programs such as their 'Black Girls Rock' program, 'Money Mondays', a financial literacy class and a new partnership with the 'Rise Up Basketball', 8-week program.
For more information about the program visit: the100program.com