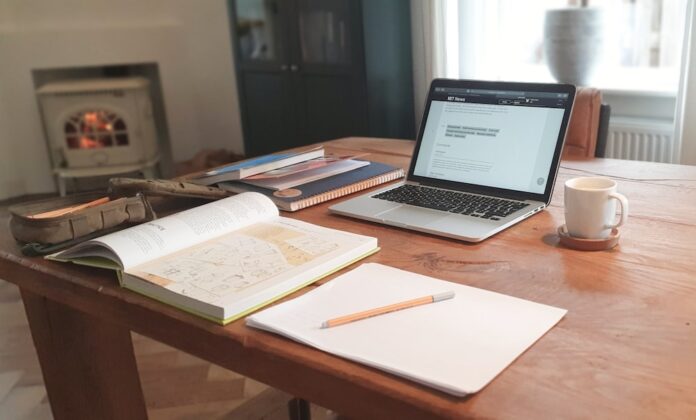 In a world where social distancing has become the norm, you will probably find yourself working from home. So how do you remain productive and set yourself up for success despite all the distractions, such as pets and children?
It is natural to fantasize about lounging around in your pajamas, taking long lunch breaks, and having extended sleeping hours whenever the idea of working remotely comes to mind. But the reality of success when working from home is completely different.
You have to realize that although working from home is flexible, it is still a professional job and should be treated that way. There's a fine line between work setting and home life when you work remotely. When this line gets blurred, you will become less productive when working from home.
Work from Home – Tips for Success
Working remotely is a privilege that needs more responsibilities. If you fail to do it properly, you could end up getting fired and have difficulty getting a job replacement. Below are some tips to successfully work from home.
Research shows that morning people could be more productive because getting up early gives them more time to prepare for the activities of the day. Additionally, if you have children at home, this will be a good time to squeeze in more work because it is free of distractions.
One huge challenge when it comes to working remotely is the number of distractions. For example, if you work in your bedroom, a space normally meant for sleeping, you may see a reduction in productivity.
You need to set yourself up in a space where you can remain focused. Be in a space you feel comfortable and ergonomically sound. Do what you can to get rid of sources of distraction.
Deciding to sit down at your desk and begin work at a particular time is one thing, coming up with a routine that guides you into the chair is another.
You need to have something in your morning routine that shows that you are about to begin work. It could be preparing coffee and taking the time to savor it before you begin looking at your to-do list. It could be getting back home after a morning jog. It might be getting dressed.
Working from home indeed means you can work in your pajamas. But studies indicate that this can quickly get depressing. Putting on a nice pair of jeans and a clean t-shirt can put you in a different state of mind for working efficiently.
Always treat every day like it is 'casual Friday'. This means you can relax a bit, but still hold yourself to a standard of dress that puts you in a productive state.
Organize and work efficiency
You might be successful in your field, but if you fail to organize your workday, you'll be setting yourself up for failure when working remotely. Being organized means more duties and responsibilities coming your way. This will increase your work efficiency.
Set ground rules with family and friends
Set ground rules with people that are always in your workspace. If you have kids that come home from school while you're still working, you need to set clear rules for them about things they can and cannot do during that period.
Also, just because you're home and can perform other activities such as letting service people into the house or taking care of pets, does not mean other family members should assume you'll always do those activities. If you simply take it all on by default because you are now working from home, you may feel taken advantage of, and your productivity decline.
Ask for the things you need
If you are working for an organization that expects you to work from home, ask for the equipment you need as soon as you begin work, or as soon as you realize you need something.
You need to set precedents early so that you will ask for what you need to comfortably get your job done. Things you could ask for include the proper chair, printer, mouse, monitor, keyboard, chair, software, and so on.
Socialize with co-workers
Some common problems faced by employees that work from home include loneliness, disconnection, and isolation. This is especially true for extroverts.
Organizations that have a remote work culture mostly offer methods of socializing. For instance, they may have chat channels for remote employees to speak about common interests, meet-ups, and retreats. You need to figure out how much interaction you need to feel connected and included.
During workdays, all employees take breaks. Working from home should not be any different. Consider working in smaller spurts and creating relaxation times in between, which can be refreshing and help you both mentally and physically. Leaving your chair for some time at regular intervals can also help you relax your eyes and spine.
In Summary
Most places are now on lockdown, and, even in areas that are not, employees are encouraged to remain at home. Working from home is a great opportunity. You have more freedom with your time and can work in the comfort of your house.
But just because you work at home, doesn't mean you can take it easy and do unproductive activities all day. You need to take your job seriously and improve your communication and organizational skills so you can be more successful.
Written By
Joshua Gyang