Throughout history, people of African descent have proven their intelligence, courage and creativity time and time again. There are so many examples of black excellence, that one month simply doesn't seem like enough time to shine well-deserved spotlights on the accomplishments of some truly exceptional individuals.
Hosted by local Historian, Irene Moore-Davis, United Voices took time to celebrate some of these individuals in a Town Hall Meeting at the Downtown Windsor Public Library on October 11th, 2018. The initiative is part of the United Voices Violence Prevention Campaign, sponsored by Silvertrust Media and its partners, and made possible by the Ontario Black Youth Action Plan/Ministry of Children, Community and Social Services.
The event gave attendees an opportunity to watch a short documentary and celebrate success stories within the African Canadian community. The documentary provided Bilal Mohamed, Winnie Tchoukou, and Tatyana Roberts, three teenagers from the Windsor area, the opportunity to interview local community leaders, Neil MacEachrane, Linda McCurdy, and Mike Akpata.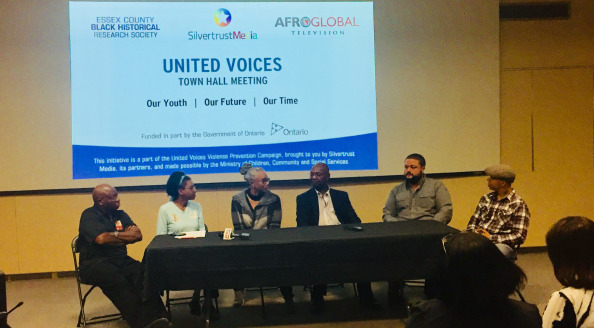 The documentary emphasized the point that our young people need space to determine what their full potential is and not be put into a box by society. "The way to make change is to have a seat at the table," spoken by Mike Akpata, appeared to resonate with the audience; especially the youth. As a member of the Windsor Police Services and long time leader in his community, his wise words drove the message home that there is no limit to one's potential and the success you can achieve. The goal is for school boards across Ontario to have access to the short documentary, with the hope that it will serve to inspire many young African-Canadians.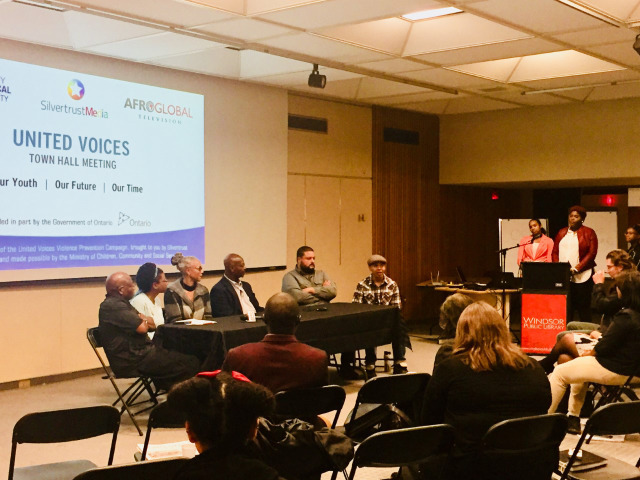 The premiere of the documentary transitioned into a vibrant exchange between the audience and an impressive panel that included, Kenny Gbadebo, Terrance Travis and, one of the individuals featured in the documentary, Linda McCurdy. Community activist and artist, Terrance Travis, reinforced and emphasized the importance of the community coming together to support events such as these when he said that "everyone here is doing something to strengthen the community."
Mrs. Irene Moore-Davis noted that, "we do not always promote a culture of achievement" and the night served to amend this deficit in the community; helping to educate not only young people of African descent, but all ethnic and cultural backgrounds, about the vast possibilities that African Canadians are capable of achieving.