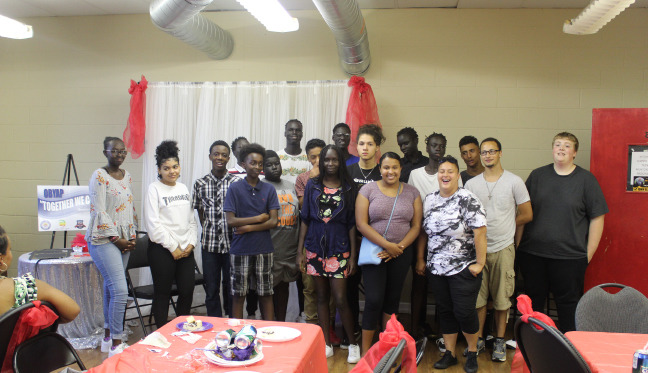 It's never too early to start preparing for the rest of your life and the Ontario Black Youth Action Plan Together We Can Mentorship Program focuses on just that. Over the course of two days on August 29th and 30th, 2018, students came together to celebrate the end of the successful first year of the program.
When John Elliott first approached Joi Hurst to join forces and create something that would truly benefit the children in the community, no one expected that an extended family would soon be created.
Funded under the Ontario Black Youth Action Plan, children in the program learn valuable life lessons through mentorship programs, like how to prepare their futures through the summer youth employment workshops.
The program instills confidence in the youth and informs them on what they can achieve. It "provides them the etiquette they need to apply for jobs," said Joy Hurst, Director of the program. "We let them know that we care about them, we give them the skills they need, and even after this, they are coming back for job placements."
The employment workshop had mock interviews, team building, resume building and skill and strength finders to help the students figure out what they enjoy. Many of these students never had the opportunity to dive into their strengths before and the program gave them the opportunity to showcase what they are good at. The students then have the opportunity to put the skills they learn in the workshops to the test through work placements. These opportunities give the youth a first-hand glance into the world of employment and a great chance to prepare them for their futures. Placements included working for the Windsor Express, the STAG and Deans Legal Services.
Part of the program also included fostering a close relationship with the Windsor Police Services. The Windsor Police come in twice a week to teach them about real life situations. They interacted with the youth, playing with them and taking them on field trips. This allowed youth in the area to interact with the police on another level and gives them a deeper view into what they really do. Counselor John Elliott could see the difference that the interaction with the police made, "After getting to know the officers [the kids now think] maybe I can become a police officer. It relates more to them."
The bond between the kids and program leaders was almost palpable during their closing celebration, that included dinner and certificates for their achievements. They had around 25 students for both age groups and good news travels fast as youth who were not able to participate in this year's program are already eager to join next year.