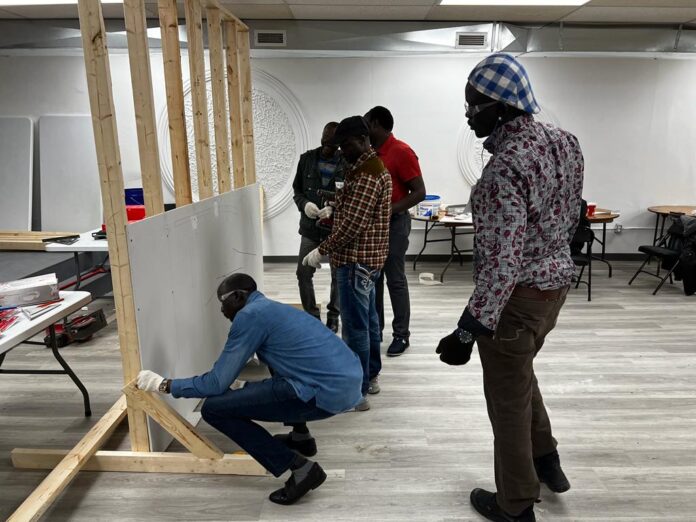 Black Canadians for Cultural Educational and Economic Progress (BCCEEP) on May 1st, 2022 did a unique thing in the Black community in the BCCEEP center at 1356 Tecumseh road W, Windsor, through the instrument of its special Innovative Program for Parents; they organized a home improvement training for black men. This project is hands-on training in home renovation, where skilled Tradesmen taught these men, many of them newcomers to Canada the possibilities of saving money when they do stuff by themselves in their homes. Also designed into the session is an idea of getting them interested in making trades a direction to be retrained on so that they could begin a new profitable profession.
The workshop introduced them to the usage of hand tools which was new to some of them that had been familiar with ma manual tools, but here is a new power tool that gets things done much more easily with less strain on the body. Not only did everyone try their hands on top and get used to getting a feel of it, but they also received training on fixing the drywall, which brought joy to many that even will like to have more opportunities of the training, thinking this could be a line of business for them or even a gateway into the larger construction industry.
Over seventeen people were in the workshop in The BCCEEP Centre, Tecumseh Road; a venue that has become a friendship center where many black people come to relax and network. While the reasons to be there are often for training and learning, it is fast becoming a place of joy because of the ever-welcoming nature of the leadership there. The technical training that was held there gave hope to those not very sure of what next, that perhaps they now have a chance to come to their employer, It brought a positive outlook and has helped younger people; it is hoped that the program will be replicated in other cities of Southern Ontario.