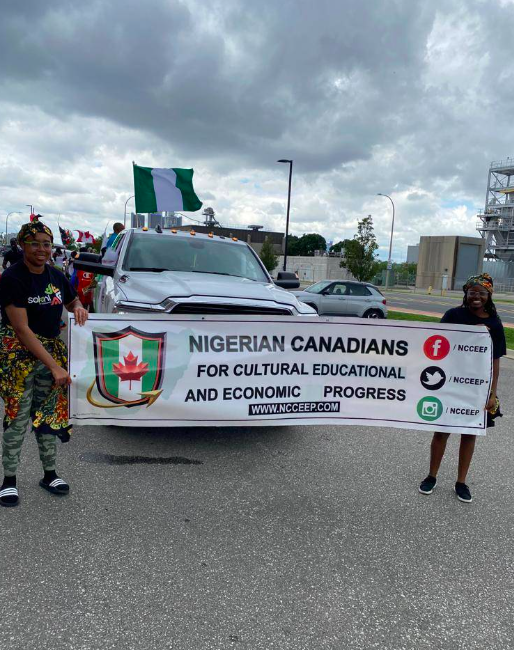 Windsor International Diaspora African Festival (WIDA Fest) 2023, is the first of its kind in the Windsor Essex area. An 8-day event filled with fun and historic festivities that were enjoyed by those who participated. Day 7 of the festival showcased a street parade and music concert where people from different cultures and religions were able to come together in a lighthearted and joyful atmosphere and allowed people to dance and showcase their pride in their heritage. The parade consisted of several countries in Africa, along with the Windsor Police, The Rotary Club and the Nigerian Canadian for Cultural, Educational and Economic Progress (NCCEEP).  
 Jamie Adjetey-Nelson, the Diversity Officer for the Windsor Police Services, attended the parade. When asked what his overall thought on the WIDA Fest Parade was, he said, "The event to me was a success because we were able to highlight the Diversity our city has." As a member of the Black Community, Officer Adjetey-Nelson was especially proud to take part in the event, "We were honoured to take part in the International fest, not only as a police service but for me as an African Canadian."
 NCCEEP member, Sunny Ebegbuzie, helped to spread the word about the organization during the parade, including the Sokoni Market, which is a program that helps small businesses and entrepreneurs recover from the pandemic. Ebegbuzie distributed the Sokoni Directory to participant attendees who were happy to learn about a variety of Black business owners spanning from Windsor, London to the Greater Toronto Area.   
 The parade required a lot of hard work and planning to make it a success. The main lead at  Brownett TV, who was one of the organizers of the WIDA fest parade, was quoted as saying that the parade only took 6-8 months to organize.
 
The second half of the event concluded at the Riverfront Festival Plaza with a fashion show and musical performances. Starting with singing artists, Christie Nelson and Flo, who opened the night singing the Canadian national Anthem and 'We are the World' originally recorded by the collaborative group, USA for Africa. Continuing with eye-catching entertainment, a fashion show was displayed. Designed by Pantence, an array of alluring colours and designs were showcased and modelled by children from the African community. These were followed by performances from Yellow Moon on the drums and Deedee Berepiki, a recording artist with an impressive vocal range. Participants of the events could also enjoy a variety of African and Caribbean meals served by local vendors.  
 With the successful conclusion of the WIDA Fest, the first of its kind in the Windsor Essex area, many are looking forward to next year, with the expectations of the event being even bigger and better!  
 Written By; Reni