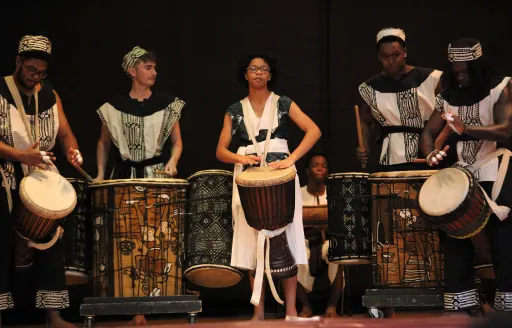 Music, a genre of the performing arts and a means of entertainment have evolved over the years, and it keeps evolving. From the percussion beats to the introduction of string instruments, music, the world over has traversed lands and climes and defined times and ages. In Africa, music is a social activity that brings people together. Music highlights African values and traditions when accompanied by a melody. Many events including birth, marriage, rite-of-passage, rituals, and liturgies are often spiced with music.
However, popular music in Africa has graduated from the drum, percussion, gong, flute, and xylophone beats to accommodate modern instruments like the guitar, trumpet, saxophone, piano, keyboard, electronic drum, etc. For instance, highlife music that swept through the West African coast in the 1960s through the early 70s was defined by the horn influence. Before late Fela Anikulapo Kuti popularised the saxophone through his afrobeat music, the likes of late Osibisa, Bobby Benson, Eddie Okonta, ET Mensah, and Victor Olaiya, were great trumpeters. Fela also started his career with the highlife clan before he was radicalized.
In South Africa, images of the late Miriam Makeba, Hugh Masekela, Brenda Fassie, Lucky Dube, Yvonne Chaka Chaka are huge. Salif Keita and Omar Sangare held sway in Mali and close by in Senegal, Yussou N'dor and Akon are valuable exports. The aforementioned have explored popular genres of Africa which include, highlife, juju, makossa, afrobeat, and kizomba to the glory of the continent. We're doing a spotlight on some legends, living or dead who used their musical talents to put Africa on the world map. Quite some names are examples worthy of exploring:
Fela Anikulapo Kuti (15 October 1938–2nd August 1997).*
Born Olufela Olusegun Oludotun Ransome-Kuti, the man who is also known as Abami Eda (the weird one) was a Nigerian multi-instrumentalist, and bandleader, composer, political activist, and Pan-Africanist. He is regarded as the pioneer of afrobeat, a genre that combines traditional some West African percussion and vocal styles with American funk and jazz.
He's considered one of the greatest from Africa, Fela started out as a highlife crooner on his return from the London School of Music in 1963. The musician first trained as a radio producer with the FRCN, Lagos had a stint with Victor Olaiya's All-Stars Band before he formed Fela and the Koola Lobitos which was domiciled in Kakadu Nightclub in Yaba, Lagos. A 10-month trip and musical tour of the United States during the civil rights struggle of 1969-1970 brought him in contact with Sandra Izsadore, a Los Angeles-based member of the Black Panthers. Izsadore would influence his political radicalization by encouraging Fela to read books like The Autobiography of Malcolm X.
That relationship changed Fela's worldview and his music. He dropped his English name Ransome and replaced it with Anikulapo. Fela also changed his music from the melodies of highlife to a jazz-laced ensemble which he called afrobeat.
Abami Eda the name he adopted thereafter, used his music to fight societal ills. He was not pretentious about his aversion to the military's incursion into politics and everything it symbolized. For instance, his song "jeun k'oku" (gluttony) was satirical of the regime of the Nigeria Military leader of the time, General Yakubu Gowon in the early 1970s. Zombie was a lampoon of the invasion of his residence known as Kalakuta Republic by soldiers in 1978. Fela followed up with albums like "Teacher don't teach me nonsense" and "Beast of no nation" which he mocked. alleged human rights abuses under another national leader, Gen. Muhammadu Buhari, and Tunde Idiagbon's regime and the hypocrisy of the world body, the United Nations.
Fela was so versatile, that he could not be boxed into a corner. Although a social crusader of some sort, he also sang about some societal malaise of the period. Some of the issues are addressed in his hit songs Shakara, lady, palava, water no get enemy, dead body, oju elegba, among others.
Fela was considered a deviant by successive military regimes in the 1970s an.80s. He was in and out of detention because he was always having brushes with the law. His last brush with the law was when he was arrested for being in possession of marijuana. He was detained and shortly after his release fell ill. He died on August 27, 1997. Fela narrowly missed being inducted into the Rock and Roll Hall of Fame last recently.
As a promoter of African culture and traditions, Fela was a polygamist. On a particular day, he married 27 women in one fell swoop. Nevertheless, Abami Eda bequeathed a legacy of music to his children, a legacy being spearheaded by his first son, Femi, followed by Seun, and Femi's son, Made. There have been many artists who have gained a lot of success in the music industry, but none have possibly matched Fela Kuti's legacy.